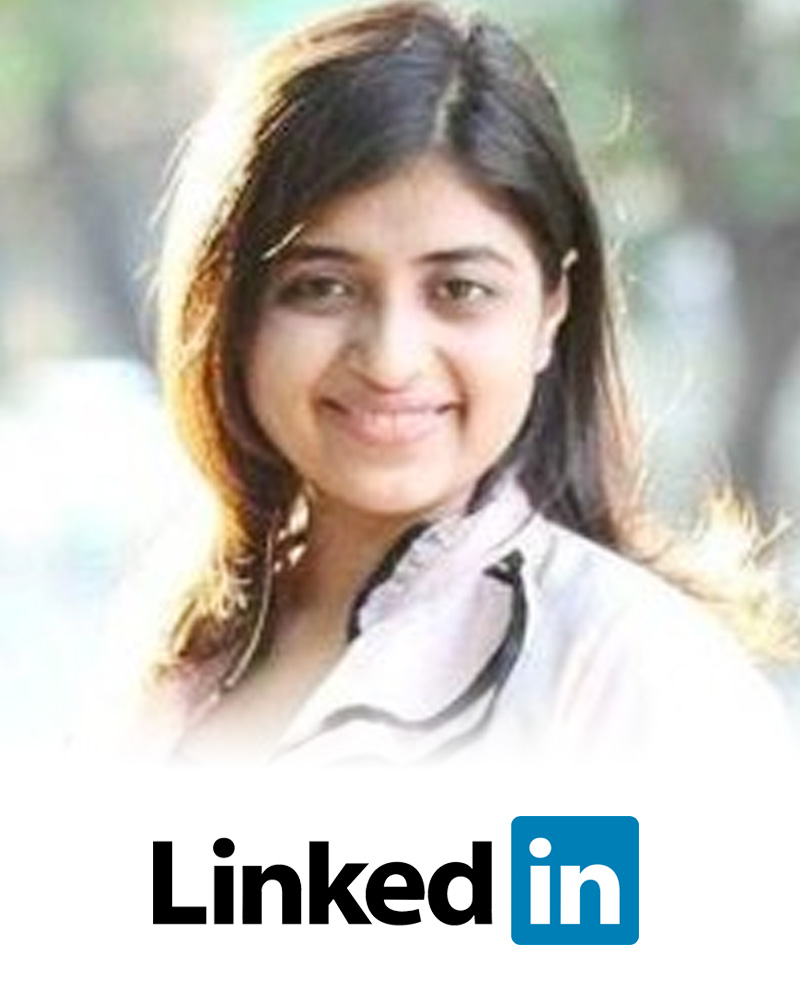 "I came across Anjali's impactful work through her storytelling video series on LinkedIn. It immediately provided so much value to me as both a marketing professional and a member on LinkedIn. Based on this, I invited her to speak at one of LinkedIn's large virtual conferences in early 2020. Her session on "Motivating the workforce through the power of storytelling" was ranked as one of the top 3 sessions appealing to our audience not only in Asia but around the world. Anjali has this unique ability of connecting to her audience instantly ! Her public speaking and communication skills are top notch and she takes it to the next level with an ability to inspire her audience to bring about a change. I would highly recommend her as a speaker and storytelling coach. It has been a pleasure to associate with her."
Pooja Chhabria
Group Manager, Growth Marketing APAC, LinkedIn
 "If I have to use few adjectives to describe Anjali - it would be curious, hardworking, bold and inspiring ! I met Anjali in Guangzhou -over two day she impacted me with her enthusiasm, commitment and passion to uplift everyone in her session. She really inspired each one of us to craft our compelling and bold stories. We met in Sydney again and I was deeply impacted by her curiosity and hard work - she puts into her work. She is not one of those who will settle for less than best in her work. Lastly, her personal journey is a true reflection of what you see in her everyday- bold choices she made, took a leap out of the fog onto upward journey, open-minded to embrace the winding road and curious to learn at every step. It's a delight to work with her."
Bhawna Gandhi
HR Director, Danone Specialized Nutrition Americas, Asia, Middle East, CIS and Export
"As the founding curator of TEDx Singapore, my team and I coach our TEDx speakers ahead of their talks. In 2015 we met Anjali and invited her to be our Storytelling Coach. Anjali has the X factor and her passion for storytelling is infectious."
Dave Lim 
Founding curator, TEDx Singapore
Note: Anjali worked again with TEDx Singapore in 2017 and 2019.
"I've had the privilege of working with Anjali when PETRONAS ICT first launched our Future Leaders Program in 2015/2016. Since then, we've invited her back time and again to work with our leadership team and the Leadership Academy to help shape ICT stories and develop effective "story tellers" in a way that attracts and sustains the audience's attention.
Just recently, we had our Group ICT Excellence Awards final round of judging and the PETRONAS leaders commented on how our presenters have improved significantly in our ability to help non-ICT audiences appreciate the work we do and remember the key messages long after the presentations. Thank you for being an amazing trainer and making every workshop an exciting one!"
Michele Lum 
Chief Leadership Officer
PETRONAS ICT Sdn Bad

"Storytelling is indeed a very critical step in any change management initiative. Before engaging Anjali, I always thought that I just need to give a good presentation to explain the new concept to my employees. However, after working with Anjali to roll out Infineon Singapore Core Beliefs, I am totally convinced to use story telling methodology on change initiative to touch the hearts of my organization. Thanks Anjali for coaching me and enhancing my skill in storytelling."
C.S. Chua
President and Managing Director
Infineon Technologies Asia Pacific Pte Ltd

"I have enjoyed working and collaborating with Anjali. She has an amazing ability to break the craft of storytelling into pieces that helps the learning process. She also takes great pride and care in customising her work such that they have maximum impact to the audience.

Due to this care and preparation, my leadership team had an impactful working experience with her recently. The lessons learnt were practical with great insights and some of my team members were able to apply the learning the very next day."
Uen-Li Chia
General Manager Global Operations & Development, Lubricants Supply Chain at Shell Eastern Petroleum Pte Ltd

"I'm really relieved! We were planning a huge strategy change in March and I literally had no idea how to talk it through with the people. After listening to Anjali I understand clearly what to do and how. The cases were so clear that I had my board watch the whole webinar and afterwards we had a 2 hour long discussion about transmitting the change. Next week we will begin the most human-centric communication about the changes in the history of our company!
Anjali, you are the best!"
CEO of a Russian manufacturing company