Storied: Driving Your Corporate Success Today!
Storied is clear guide for using stories in the corporate world to make a digital, diversity and data driven change happen. As a result, you will also drive your own corporate success.The frameworks, guiding principles and clear set of actions in the book are based on Anjali's extensive experience of running large story led projects in corporate organizations for seven years which includes projects such as a $27 million Artificial Intelligence project, increasing gender diversity in a manufacturing factory in Japan and helping pharmaceutical firms tell a better data driven story for faster drug access for patients.
The problem with the current approach to storytelling is that it is shared as one size fits all. As a result, strategies shared to make a connection via storytelling fail in some environments. The advice we get is, tell a story like this and mostly the strategy shared is designed with an assumption that we are telling a story in an inspirational speech on the stage.
But who exactly is the story for is not discussed enough and how exactly to tell it is not shared enough. Some information is available, usually online, for customers, investors, or others who want to inspire team members on values and purpose.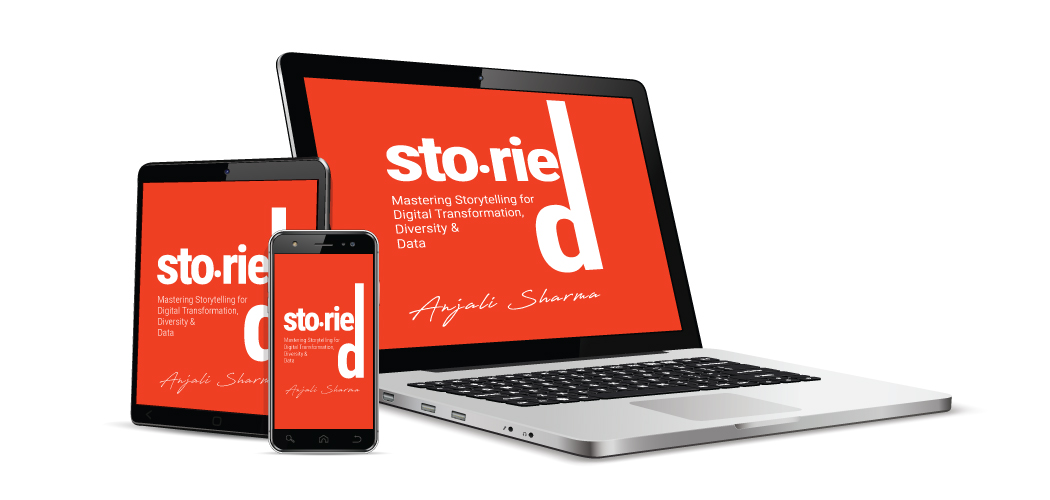 Mostly these environments are non-confrontational, and not always time sensitive.The task is to inspire without too much resistance from the audience. Consequently, most people don't buy, don't get inspired, don't invent  or leave your website.
The assumption that this external facing literature on storytelling makes is that all is well internally. Our employees are so motivated and are ready to work towards making an organization successful. That  is far from the truth. In Storied, we take you to the dark corporate boardrooms where:
•     The boss is looking at you and looking at the watch simultaneously, asking you to get to the point.
•     The team is in agreement with you on the next change initiative but doesn't align with you.
•     You are sharing all the right data but no one is listening.
•     Despite all efforts you are failing to achieve a healthy level of gender diversity.
Stories at places where corporate politics, disbelief, fatigue and lack of trust exist. Mostly the listener is someone you see everyday, work with everyday, and need to align with everyday.
Join Our Storied Book Club
and receive storytelling insights every Friday!
Want to Know More?
In Storied, Anjali Sharma, founder of Narrative: The Business of Stories, a storytelling practice that specializes in organizational change reveals the three relevant and pertinent stories you can use to make the desired change happen in an organizational setting and drive your own corporate success. The corporate ecosystem's success is driven through these three stories.
Digital Transformation: Using stories to successfully implement change initiatives in an organization and be recognised for it. We dig deeper into a specific kind of a change here - Digital Transformation. Since COVID-19 Digital Transformation has been the biggest change organizations are facing.
Diversity: Using stories to create an understanding around the specific issues that become a roadblock to creating gender diversity and driving innovation.
Data: Using stories to communicate data driven insights to drive better business outcomes, influence decisions and become a value adding contributor.
Why should you read this book?
You should read this book if you want to use storytelling as a catalyst for personal/vocational fulfillment, and corporate effectiveness.
The reason it matters is because there are so many people out there who are fantastic at their jobs when they can do that job alone, but struggle when they rise in the company and have to work with others, or even lead them. Storytelling is the key for navigating those waters and becoming as professionally successful as you want to be. And, when people all do this, companies can work more effectively and do amazing things."
"Our personal success in the corporate world is heavily dependent on our ability to storytell because our role is replaced from providing information only available to us in the past to influencing decisions."
This book focuses on the 3 types of stories every corporate professional must learn to tell to achieve the success they deserve –– Digital Transformation, Data, Diversity
Listen to Some Excerpts from the Book
Who is this book for?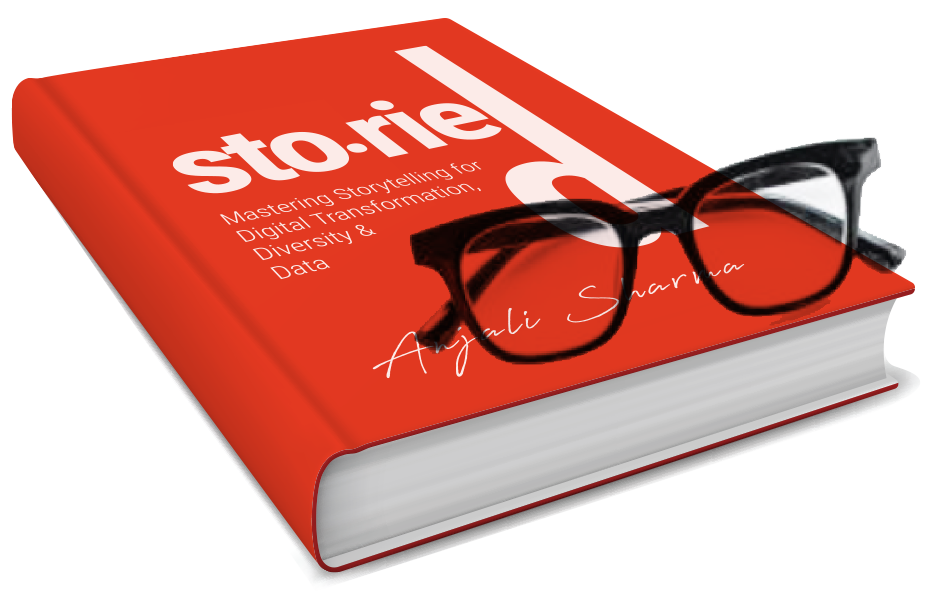 Corporate professionals have a high degree of responsibility, both internally and externally. Internally, they really care about their jobs and their leadership. Externally, they have a lot of eyes on them, so it really matters that they do a good job. They're afraid of being replaced because everyone in the corporate world is right now, so they strive to make themselves indispensable.
The way they've been doing this is by picking up technical skill after skill. But, because of skills inflation, that isn't cutting it anymore. What they really need to learn is how to *influence.* And the way they do that is through storytelling.
Furthermore, many managers are cognizant of a disconnect between themselves and their staff as a result of organizational changes and the expanded role of women.Storytelling is the universal bridge. While some people are naturally talented at this skill, in fact, it is a teachable skill that everyone can improve on and master to advance their careers and impact meaningful change at their employers.
Your corporate success is just a story away!
Hi! I'm Anjali
I turn corporate professionals into business storytellers which enables them to drive better business outcomes.
In 2013 my resume had 13 years of corporate and advertising experience in 3 different countries, India, Singapore and Australia. It was time for the next phase. So, I decided to start my own story practice called Narrative: The Business of Stories.
When I first started the practice I did not know that my story work will help my clients get media coverage, get government funding, make them the employer of choice and be the catalyst for their personal/vocational fulfillment, and corporate effectiveness. Many of my clients have been promoted not because we made them better at their jobs but because we gave them the language, in the form of stories, to talk about the amazing work they were doing in their jobs.
Over the last 7 years I have had the opportunity to work with brands like ByteDance -TikTok , AirBNB, Google , Facebook ,LinkedIn, Microsoft, Shell, Danone, Caterpillar and Micron to name a few. I have coached TEDx speakers to find and tell their stories. Helped brands like Infineon, Roche, Singtel ( a large telecommunications firm in Singapore ) Agilent Technologies tell their Digital Transformation Story.
I'm not sharing this to brag–I'm just a normal girl from India who came to work in Singapore in 2001. I was as surprised as anyone when within 5 years my little practice became a 5 people team and we started tripling our revenue every year.
This success has made me wonder what is it exactly that we were doing that was gaining traction? And I came to a conclusion that we had unintentionally decoded the science of storytelling which meant my work is not just limited to creating connections, inspiring, motivating and engaging with storytelling but it also covered situations where you have to influence decision makers and drive better business outcomes in a very time poor world.
I had learnt exactly which story needs to be told in which setting and how to tell it.
I now live in Singapore with my husband, daughter and two rescued dogs.
Join Our Storied Book Club
and receive storytelling insights every Friday!