March 25, "May I have a minute?" asked Singapore's National Development Minister Lawrence Wong in the parliament as he choked and teared up while acknowledging and thanking the healthcare workers and the unsung heroes all over the Island for all that they were doing to wage the war against COVID-19. It was equally uplifting to see MPs in the House thump their armrests in support of the same.
Really, an emotional response garnered admiration? Hard to believe because we have spent years learning the opposite.
Dr Brene Brown's research shows evidence that being perceived as weak is the biggest shame trigger for men.
For years, we have worked with the notion that men and women, who cried, risked being perceived as less professional and competent when compared to their stoic peers. I remember a fellow speaker, who became emotional whilst delivering her talk during the auditions for a speaking engagement. She was given feedback and has since held back her emotions when in professional settings.
Crying has long been considered a liability. However, during this global pandemic, the perceptions attached to public displays of emotions seem to be changing.
President and Chief Executive of Marriott International Arne Sorenson became emotional during a broadcast to his employees and many on Twitter praised him for his message and considered the broadcast a "lesson in leadership"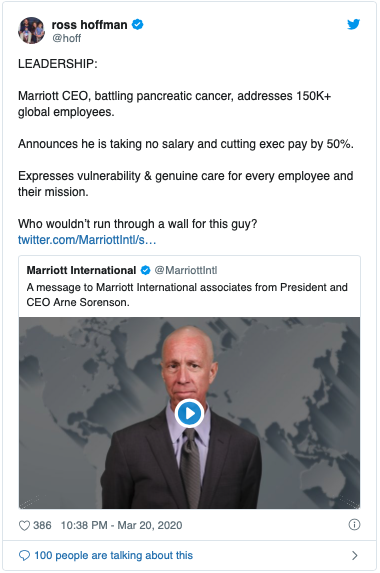 Andrew M. Cuomo, the Democratic governor of New York, teared up more than once during his daily televised briefings on Coronavirus.
Tearing is becoming a norm during these times, but what's surprising is the acceptance, adulation and admiration for those displaying emotional behaviours during this period.
According to Tom Lutz, the author of Crying: The Natural and Cultural History of Tears," it was common in the 18th century for upper-class men to cry – in fact, "[men] were viewed as brutes if they didn't [cry]." It wasn't until the 19th century when the idea of male stoicism emerged, and in the mid-20th century, men, who teared were considered not manly or stable enough for public office.
When we were babies and toddler boys and girls, we all cried equally. Crying is a non-verbal way of saying " I need help and support," "I am feeling for someone" or " I am hurt."
Crying makes a leader human but it can also can be perceived as being helpless and incompetent. We tend to have narrow boundaries of acceptable emotional expressions at our workplaces and even more so for men and women, who are leaders, said Professor Grandey, a psychologist at Penn State.
It also depends on the emotion as well.
Religious tears tend to be OK, as do heroic tears (think: war, sports). Patriotic tears are generally welcomed, while personal tears are risky.
" In professional life, you can now cry to show empathy and concern, but you can't cry because your feelings are hurt … frustrated or … angry, This is true for politicians as well. They can cry for others, but not for themselves," wrote Mr. Lutz.
On 18 November, 2016, I had just returned from having worked with a group of lawyers from Microsoft in India who cried while storytelling. I reflected on the incident in my blog post Do storytelling tears work in a boardroom?
As I read (again) and reflect upon my own writing, I realise how wrong I was on so many levels. Or maybe I was right for 2016.
"The days when a politician cried and it was over for them — that's over," said Pam Sherman, a leadership coach based in Rochester, N.Y. "Things like empathy, vulnerability, emotional connectedness — these are the things that define today's leaders."
In other words, the leadership traits that traditionally have been associated with women and weak leaders are today leadership assets.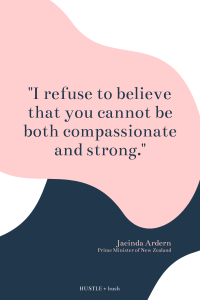 Why the QR Code?
The answer is in the request below we received from a regular blog reader.
"I attended your story telling course some time back. And I've enjoyed keeping up my knowledge with your blog. You may not have realised however, that the Whole of Government is implementing Internet Seperation. Hence I'm not able to access the links to read your articles. Could I suggest including a QR code in your emails so that I can use my mobile to scan it and gain immediate access to the article? It would be most helpful"
---