This blog is part 2 of 2 our Blog Series Storytelling:Interviews or Customer Safari
In Part 1 of 2 we understood what is a Customer Safari.
In this blog I wanted to share a story of a business leader who went on a customer safari and gained unique insights in to their customer's world which led to better business outcomes.
Story as narrated by the Business Leader. I will call this business leader Rita
This was around the time when I was GM Sales in Malaysia. A significant part of our business supported the Timber sector. We had access to our client in their head office in Sarawak but their timber operations was out in the jungle. I wanted to see how our product was being used and also what the difficulties were in their operations and how we could help better.
So, I walked up to our operation's head ( Let's name him Wahid ) and said, " I want to go to the main operational camp of our customer". Upon hearing my request, Wahid gave me strange look and said, "No, you can't go there.  Nobody goes there! And you specially you can't go there because you are a lady."
I asked, "but why ?"
Wahid said, " let me explain. This is a Ulu ( far, distant, remote in Malay language ) a place in the middle of no where… Its dangerous to get there Rita. On the roads there are no lights, no lanes and you swerve according to the curve of the mountain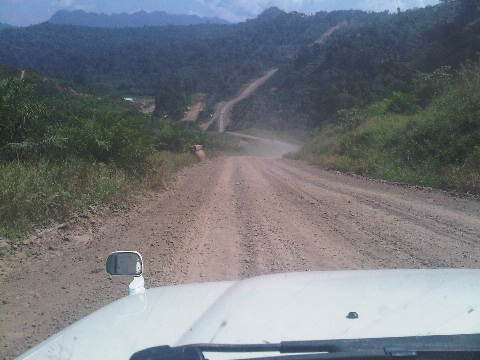 It's a long windy dusty manmade road where you get driven by a "transporter" in the jungle ( not a forest). It's 3.5 hours from the nearest village
The operators stay at camp for a month at a time as the journey is very tough and full of risks.There is no mobile connection once you get into the jungle until you get to camp where there is a generator, and if it rains, there could be landslides.
In the end Wahid looked at me and asked again, " Do you still want go ?"
And my answer was, Yes.
We had to plan all the safety details before I was allowed to go.
The trip was exactly how Wahid had described it to me, just coupled with my own emotions of fear and uncertainty.
However, the best part was that the customer was traveling with me . So we spent many hours together, waiting in basic airport lounges and then driving in with breaks in between in little villages. We even stopped by at one farm for him to pick up a couple of live chickens for our dinner that night.
When I finally reached the camp. I saw the condition of the camp where our customer lived. Basic is an understatement.
I spent hours observing the customer in action. I think it was these hours that led for deeper conversations then a simple 1 hour or day interview. I literally spent a week with them and on one of the days I asked the customer "So, what makes you choose us over our competitor?"
Honestly, I was expecting an answer like , " we have better product and service.. but the customer turned around and said, " you see the way we live here its pretty basic and very rough. At the time when we were approached by a couple of companies for business we met the staff from the companies and when it came to conditions of our camp, the canteen and other areas your company staff said, no problems we work with what you have and the other competitors who has an equally good product and service said, " we need somethings changed about this place before we start business. This place needs to be made conducive for us". That difference in attitude made us select you over the other"
I walked to their storeroom and maintenance plant and also asked their operators what their issues were with our product, and we also offered training as my technical manager came with me, and they enjoyed the product training and all these interactions over a week were informing me so much about the customer that I would have never have known by sitting in my air conditioned office in Singapore.
There is so much more I learnt by being there…. At night I would see the only source of entertainment these people have in that area was to play cards on the hood their trucks . They used a lamp connected to their four wheel drive truck engines.
I came back to Singapore and got packs of cards with our company logo made and sent to them as Thank You gifts . For years we have been sending them Thank you gifts that they may never get to use but this customer safari gave me insights that I would have never gained by reports, survey, customer segmentation etc.
Why the QR Code?
The answer is in the request below we received from a regular blog reader.
"I attended your story telling course some time back. And I've enjoyed keeping up my knowledge with your blog. You may not have realised however, that the Whole of Government is implementing Internet Seperation. Hence I'm not able to access the links to read your articles. Could I suggest including a QR code in your emails so that I can use my mobile to scan it and gain immediate access to the article? It would be most helpful"
---