There are stories we tell ourselves and our worldview is formed based on those stories. Recently, I worked with a digital and innovation team of a leading multinational corporation and one of the story the team told themselves was,
SAP the multinational software corporation that makes enterprise software to manage business operations and customer relations stands for Suffer After Purchase. Obviously, this was a joke. However, in this joke was a reflection of team's sentiments of having worked on the applications provided by SAP.
I asked the team, " Do you really think it is Suffer After Purchase?" There was silence in the room for a good 5 mins but after experiencing a little of bit of tension with silence we had a few stories that countered the original view. And then someone said, "SAP stands for Satisfied After Purchase." 
So, what happened? Why did a group change Suffer to Satisfied? 
Well, because for every one suffer story there were many satisfied stories and that changed their view.
Similarly, when is comes to Microsoft and Agility there is a story we tell ourselves.
Here is a great example from Steve Denning Article Surprise : Microsoft is Agile in which we see how stories change views.
This is how Steve explains it in his article.
Microsoft? Agile? Are you kidding?" The image that many have had of this giant corporation with 2014 revenues of $86 billion and 128,000 employees is that of a giant battleship that is strong and powerful but slow to maneuver and not always customer-friendly.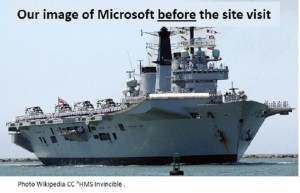 Denning writes in his article that was the image that came to mind in April 2015 when Aaron Bjork, a group program manager in Microsoft's Developer Division, contacted us and offered to share the story of Microsoft's "Agile transformation journey"
Several months later in July 2015, when the members of the Learning Consortium visited Aaron and Microsoft's Developer Division, what we found was less like a giant battleship and more like a flotilla of speedboats operating and maneuvering in an orchestrated fashion.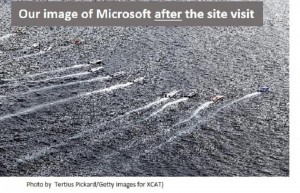 The Developer Division is about 4,000 people, working in hundreds of teams, each of 10 to 12 people, working in 3-week sprints. Aaron's specific group is Visual Studio Online. This group comprises 35 teams totaling about 450 people. Aaron himself oversees five teams.
The Developer Division as a whole ships a range of products and services, including Visual Studio, Visual Studio Online, Team Foundation Server, Release Management, and TypeScript. Other groups at Microsoft, like Windows, Office and Bing, are separate, but all of them are in various stages of an Agile transformation. The Developer Division is leading the Microsoft charge to become Agile. It owns the "first party engineering system charter" (IES) and is driving that across the company. There are monthly scorecards on how the big divisions are doing in adopting it.
"We are very much a Scrum organization," says Aaron. "If you observed a day in the life of a team, you would see a daily stand-up, in a team room. You would see sprint planning"
After reading this story there is no doubt in our mind that Microsoft is not a giant battleship and more like a flotilla of speedboats. Effective Storytelling is at the heart of this change.
What is the point I am making? 
If you want to change minds , change the stories. Believe it or not, we believe in stories.
Why the QR Code?
The answer is in the request below we received from a regular blog reader.
"I attended your story telling course some time back. And I've enjoyed keeping up my knowledge with your blog. You may not have realised however, that the Whole of Government is implementing Internet Seperation. Hence I'm not able to access the links to read your articles. Could I suggest including a QR code in your emails so that I can use my mobile to scan it and gain immediate access to the article? It would be most helpful"
---